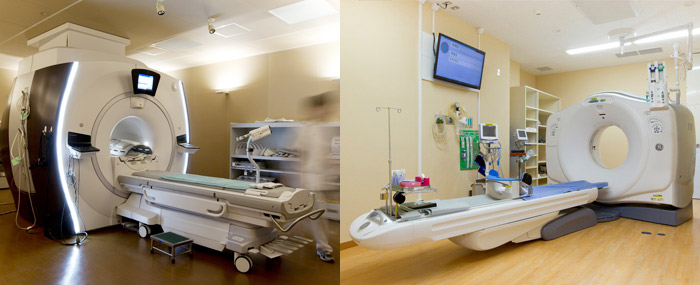 In diagnostic imaging, general X-ray imaging (chest, abdomen, bone · joint, breast), CT, MRI, ultrasound, special contrast inspection (digestive tract, urinary tract, biliary tract, spinal cord, blood vessel catheters) are used to obtain images from the body. These images are carefully examined and diagnostic reports are prepared for interpretation.
In CT / MRI, photographing is carried out in the most appropriate way for individual diseases and processes based on the contents of the request for medical treatment. Captured images are examined and specialized information useful for medical treatment is provided. Recent advances in CT, MRI imaging apparatus, contrast medium and image processing technology are remarkable. It is attractive to use high resolution imaging (HRCT), multi-phase imaging using a contrast medium, three dimensional stereoscopic image generation (blood vessel / Multi-sectional display), and morphological function diagnosis using organ-specific MRI contrast agent (mainly liver), etc. It is useful for diagnosis, treatment planning and post-treatment evaluation of all areas of the whole body. Currently, inspections are carried out with four MRIs (three 3 T devices, one 1.5 T device) and four CT devices (64 columns 3 units, 320 columns 1 unit). In multi-slice CT, an increase in exposure dose is a problem, but in recent years an image reconstruction method called successive approximation, has been developed and CT exposure is reduced.
Our department is divided into the following groups: cranial (brain · spinal cord, bone soft part), chest part (neck part, respiratory apparatus, heart / large blood vessel, mammary gland), abdomen (gastrointestinal, genitourinary equipment, limb vessel). Medical examinations are performed and highly specialized information are provided for diagnostic interpretations.